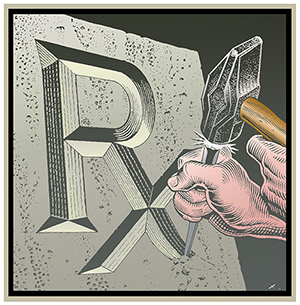 Roger Xavier is an internationally recognized scratchboard illustrator whose work has been commissioned for use on logos, annual reports, book covers and interiors, billboard graphics, exhibit displays and packaging.
Early recognition came from winning a college contest for Molson Golden beer. His winning entry gained attention in New York and a referral just 3 months after graduation to work with Charles Grodin at MGM studios on the opening credit illustrations for the film "Movers & Shakers", which was a great introduction to his lifeline passion of creating art for a living.
Before settling into his niche, Roger worked as a bio-medical illustrator and went onto working for various agencies in Hollywood specializing in packaging art for the entertainment industry.  It wasn't until 1991 that his illustrations for the Los Angeles Department of Water & Power's annual report gained recognition and numerous awards (Mead Paper award, AR 100, Print and Creativity) that his freelance career took off.
Over the years his client list has grown to include many internationally recognized brands such as Sauza Tequila, Wild Turkey, Miller Brewing Company, Domino's Pizza as well as a large list of prestigious and high caliber clients: Arco, AT&T, Bankers Trust, Bell South, American Express,  DirecTV, Goldman Sachs, Kingston Technologies, Euro Disney,  McGraw Hill, Random House, Merck, R J Reynolds, Rodale, Toyota Motor Corporation, and Wal-Mart, to name a few.
Roger is equally adept in several line styles: fine/realistic, stylized/woodcut and bold/graphic. The goal is matching the right style for maximum effect and reproduction.
Introduced more than one hundred years ago, scratchboard is a unique medium and technique that evolved out of the needs of artisans to find an inexpensive alternative to woodcut and metal engraving. Scratchboard's versatility remains in demand partly because of the nostalgia associated with B&W line techniques. Food and beverage packaging is a natural choice when choosing a logo or branding which wants to distill a sense of  history and  longevity.
Modern day scratchboard is cardboard or masonite panels that have been coated on one side with a layer of specially prepared hard white chalk, or clay. It is available pre-inked, with black ink already applied onto the clay surface, or it can be left in its white state, which allows the artist to draw directly onto it with black ink. The ink can then be scraped away with a sharp tool to reveal the chalk underneath, creating a white line or mark. This "push-pull" process allows for a greater control of the line quality and manipulation. Roger's line art, though hand drawn, is colored digitally after scanning.
For commissions, collaborations, or just getting in touch: roger@rogerxavier.com
All images  and content ©2019 Roger Xavier
​​​​​​​